Become a Friend of Miller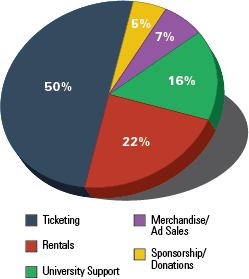 Your support
Your support allows the arts to grow and thrive in our community and enrich the lives of Southwest Michigan residents.
Strengthens the cultural life of Kalamazoo and surrounding areas.
Engages students of all ages in educational programs.
Preservation of state-of-the-art facilities.
...to make a difference ...to be entertained ...to be enlightened ...to educate
For over half a century, Miller Auditorium has been Kalamazoo's premiere venue for professional Broadway tours, classical and modern dance, professional symphonies, comedians and popular music acts. Friends of Miller membership is our open, extra-flexible subscription. Not only does membership guarantee seats to the performances of your choice, it will also give you access to many behind the scenes activities. Becoming a member is a great way to support Miller Auditorium and its programs and receive exclusive discounts and benefits. Your membership supports the operation of Miller Auditorium and all of our quality programming including tickets for low-income families, tickets for military and educational outreach to area youth.
Along with our business and corporate partners, our Friends of Miller donors play a critical role in each Miller Auditorium season. Private gifts such as yours supply the additional income needed to bring today's top artists to Miller Auditorium. In addition, your generous Friends of Miller contribution also supports the many educational initiatives sponsored by Miller Auditorium for students and teachers in our local school systems.
Make a Donation:
Click Here to login and see your current membership level
To make WMU employee payroll deduction donation, please click here. Please type "Miller Auditorium" in the designation box.
To download the information on becoming a Friends of Miller Donor or, for additional details, contact Eric Oliphant at (269) 387-2311.
Membership Benefit Levels
Friend
$25–99
Performer
$100–249
Director
$250–499
Producer
$500–999
Star
$1000–2499
Inner Circle
$2500+
Purchase up to four discounted tickets to Spotlight events

✓

✓

✓

✓

✓

✓

Miller card for discounts to area businesses

✓

✓

✓

✓

✓

✓

Name listed in show programs

✓

✓

✓

✓

✓

✓

Unlimited discounted tickets to Spotlight events

✓

✓

✓

✓

✓

Ticket exchange privileges

✓

✓

✓

✓

✓

Preferred parking pass for the parking ramp

✓

✓

✓

✓

✓

Access to the PNC Bank VIP Lounge
— Number of people varies depending on level
Up to 2
Up to 4
Up to 6
Up to 8
Invites to member only specials and artist meet and greets

✓

✓

✓

✓

Priority purchase of up to four tickets for Broadway series productions

✓

✓

✓

✓

VIP parking pass near PNC Bank VIP Lounge entrance

✓

✓

✓

Priority purchase of unlimited tickets for Broadway series productions

✓

✓

✓

Private dinner on stage *upon request
Up to 4
Up to 6
Complimentary open bar in the PNC Bank VIP Lounge

✓

✓

Two complimentary tickets for show of choice

✓